Donald Trump News: Polls, latest Twitter moments, 'SNL' controversy and more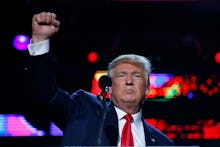 Donald Trump has been busy lately.  
The Republican presidential nominee has a long list of complaints in this election, mainly that it's rigged by his opponent Hillary Clinton and the media.
It can be hard to keep up with Trump, who likes to share his thoughts on Twitter in the early morning hours. Here's a recap of what Trump is up to as Election Day nears.
Trump's poll numbers
Trump is losing ground in the national presidential polls. According to the RealClearPolitics average of polls, he's down 5 points. But don't tell Trump that. He continues to highlight polls that have him leading, while dismissing polls that show otherwise.
Claiming election is rigged
Trump has gone full-throttle with his allegations that the election is rigged, a claim he amped up over the weekend.
Sexual assault allegations
The trouble for Trump began earlier this month when a 2005 videotape surfaced showing him talking about women in vulgar and offensive terms. Since then, there's been a slew of women who have come forward alleging he sexually assaulted them.
Trump denies all the allegations.
Trump continues to hammer the Clinton campaign for her husband former president Bill Clinton's sex scandals in the 1990s. But this weekend, he also took aim at Vice President Joe Biden.
WikiLeaks
Another batch of Clinton campaign emails was released over the weekend by WikiLeaks, and Trump has had a field day with it.
Final presidential debate
Trump's sniffling during the debates have led some to allege that he's using cocaine. Now Trump is claiming that Clinton was shot up with drugs before the debate to give her more energy. In what might be a new low in a U.S. presidential campaign, Trump is demanding that Clinton be drug tested before Wednesday night's third and final debate.
"Athletes, they make them take a drug test, right?" Trump said at a rally in New Hampshire on Saturday. "I think we should take a drug test prior to the debate."
"I don't know what's going on with her but at the beginning of her last debate, she was all pumped up at the beginning and at the end it was like, huh, take me down. She could barely reach her car," he said.
Saturday Night Live
Saturday Night Live continues to hammer at Trump, this time with a skit lambasting the GOP candidate for his performance during last week's debate in St. Louis.
Trump was not happy.
Mic has ongoing presidential coverage. Please follow our main election hub as well as coverage of Donald Trump and Hillary Clinton.