When will Netflix update next? Here are the dates of each remaining 2016 Netflix original.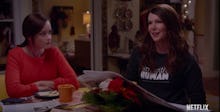 While Netflix typically announces which acquired titles are coming and going by the month, the streaming service is always months ahead planning its original series and movies. Considering Netflix's library is seemingly losing a lot of movies and TV series, it's important they keep their original content slate up-to-date so that prospective binge-watchers can plan out their next marathon session. 
Obviously, there are some vague updates, such as Netflix's continuing promise to produce two Marvel series per year. (In other words: After the release of Daredevil season two and Luke Cage this year, don't expect more until 2017.) However, the rest of Netflix's 2016 schedule is still available to parse through, including its highly anticipated Gilmore Girls revival and its expensive, Downton Abbey-esque period drama, The Crown. 
Below, per CinemaBlend, you can check out the schedule for Netflix's original programming for the rest of the year. 
October
October 21:
Black Mirror, season 3 
Midnight Diner
Joe Rogan: Triggered (stand-up comedy special) 
October 28: 
Trailer Park Boys: Out of the Park: Europe 
October 29: 
The Fall, season 3 
November
November 4: 
The Crown
Dana Carvey: Straight White Male, 60 (stand-up comedy special) 
November 17: 
Lovesick 
November 18: 
Beat Bugs, season 2 
Colin Quinn: The New York Story (stand-up comedy special) 
November 25: 
Gilmore Girls: A Year in the Life 
Michael Che Matters (stand-up comedy special) 
December
December 6: 
Reggie Watts: Spatial (stand-up comedy special)
December 9: 
Fuller House, season 2 
Captive 
December 20: 
Gabriel Iglesias: I'm Sorry For What I Said When I Was Hungry (stand-up comedy special)