Hillary Clinton News: polls, 'Ellen' appearance, latest alleged WikiLeaks emails and more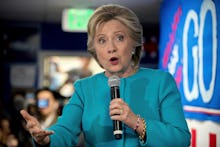 With just 21 days to go, former Secretary of State Hillary Clinton holds an impressive lead on the road to Election Day. And while WikiLeaks continues to release fragments that could be an embarrassment for Clinton, allegations of sexual assault against Donald Trump and his claims the election are "rigged" may keep voters distracted from the wonkier intricacies of leaked emails. 
Poll numbers
Clinton now holds a wide lead in national polls. The RealClearPolitics average of all polls gives her a nearly seven percentage point lead over Trump. At this point in 2012, polls showed Mitt Romney leading Barack Obama by less than half a point. Obama went on to win by almost four points nationally. Meanwhile, FiveThirtyEight gives Clinton about an 85 percent chance of victory. 
While a few new polls showed a tighter race in some swing states, Clinton still leads Trump in several key battlegrounds.
Read More From Mic: Clinton vs. Trump: Who's predicted to take the 2016 election?
Clinton on 'Ellen'
In a friendly interview for Clinton, Ellen DeGeneres put the Democratic presidential nominee's dance moves to the test. DeGeneres was not shy about her support, saying to Clinton: "I have high hopes. I trust in the good people of this country to make the right decision."
The latest on WikiLeaks
For weeks, WikiLeaks has released thousands of hacked emails from John Podesta, chairman of Clinton's presidential campaign. Some revelations from the emails have caused minor damage to the campaign. 
In one email, Podesta wrote he was "getting fucked" over a disagreement on environmental policy with a top Democratic donor. And other emails released details on some of the Wall Street speeches Clinton gave that were an issue during the Democratic primary. 
But none of the content in the emails has come close to overshadowing the multiple women who have accused Trump of sexual harassment and assault in the past week. 
Time off the campaign trail 
As Trump lambasted the media, America's democratic institutions and the women who said he sexually assaulted them, Clinton lay low. Surrogates like Michelle Obama and President Barack Obama campaigned across the country for the Democratic nominee. Meanwhile, Clinton focused on debate preparations, as Trump held several rallies and criticized the Democrat repeatedly on social media.