2016 presidential debate: Here's what you need to know for Wednesday night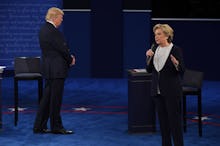 With the final presidential debate on Wednesday, Donald Trump and Hillary Clinton will have their final opportunity to make an impression on tens of millions of voters in real-time. The second debate was one of the nastiest in modern debate history and had 20 million fewer viewers than the first face-off, but 64 million people still tuned in. 
Since the first debate, when Trump saw his highest poll numbers since the Republican National Convention, the Republican has struggled to gain momentum in any state. Clinton has consistently led Trump, especially in the past week, in critical swing states. Nationally, the RealClearPolitics average of polls puts Clinton up by about 7 percentage points. 
As discussion ahead of the Wednesday night broadcast picks up, here's what you need to know before the final presidential debate. 
Swing state polls
While Clinton's lead has grown nationally, this week brought surveys that show a tighter race between the candidates in key swing states. Although Clinton has maintained her lead in important battlegrounds, Trump has not been put away. New polls on Monday narrowed Clinton's lead in states like North Carolina and Ohio. 
The final debate could have an impact on a small but important percentage of voters. The latest NBC/Wall Street Journal poll found 51% of voters said the debates had no impact on their choice for president. In that poll, 31% of voters said it made them more likely to back Clinton; 14% said it made them more likely to back Trump. 
Clinton's firewall: Women
For months, a narrative argued Trump could not win the general election given his very low levels of support among African-Americans and Latinos. But while his levels of support among minorities have remained low, Clinton has seen a surge in support among groups of white women that are typically more split or narrowly back Republicans. 
The recent NBC/WSJ poll found Clinton winning women over Trump by 20 percentage points. In an ABC News/Washington Post poll, Clinton led among women by eight percentage points. Mitt Romney won white women by 14 points in 2012, though he did lose Latino and black women. 
Trump must use his final debate performance to make inroads with women, something he likely did not do when he again called his comments about sexual advances on women "locker room talk." In that ABC/Post poll, 51% of women said Trump's comments went beyond what most men say.
Votes already cast
NBC News reported Monday that more than 1.5 million votes have already been cast nationwide. More than 1 million of the votes were cast in battleground states alone. That makes the stakes of the final debate even higher as Clinton and Trump must win-over millions.
The ballots requested so far show signs of trouble for Trump, Politico reported. In Florida and North Carolina, states Trump must win to have a shot at 270 electoral votes, Republicans only narrowly led Democrats in the number of mail-in ballots requested. That sounds good for Trump, but Republicans typically dominate the mail-in early voting. And in-person early voting, which begins soon in those states, typically heavily favors Democrats. 
Wednesday is the (debate) finale
The final presidential debate will be live on the main broadcast and cable networks from 9 to 10:30 pm Eastern on Wednesday, Oct. 19. The debate will also be livestreamed on a variety of social networks, including Twitter and Facebook, and video platforms, including YouTube.