Can I watch the presidential debate online? Here's what to know and where to go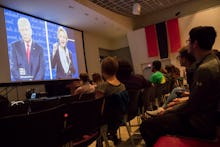 The first presidential debate on Sept. 26 was the most-watched debate in U.S. history, with 84 million viewers, according to Nielsen. The second debate, held Oct. 9, wasn't far behind, with 66.5 million viewers.  
But that's just counting television viewers. Social media and online news has dominated the 2016 election. Voters no longer have to rely on traditional media to stay informed.
During the first debate between Republican candidate Donald Trump and Democratic candidate Hillary Clinton in September, there were 17.1 million Twitter interactions from 2.7 million people in the United States, according to Nielsen.
And during the second debate, 18.2 million people in the U.S. had 62 million social media interactions across Facebook and Twitter, Nielsen reported.
How to watch the third and final presidential debate online on Wednesday night
Facebook is a sponsor of the debate and there will be several Facebook Live streams available, according to the Commission on Presidential Debates. The CPD also reports that Snapchat will cover the debate with a "live story."
The debate will be livestreamed on ABC News, Buzzfeed News, CBS News, CNN, C-SPAN, the Daily Caller, Fox News, Huffington Post, NBC, PBS, Politico, Telemundo, the Wall Street Journal, Univision and Yahoo.
You can also watch the debate on Hulu and YouTube.
The commission recommends using the hashtags #debates or #debates2016.
The 90-minute debate starts at 9 p.m. Eastern at the University of Nevada, Las Vegas. It will be hosted by Fox News' Chris Wallace. The topics, announced last week by the commission, are debt and entitlements, immigration,  the economy, the Supreme Court, foreign hot spots and fitness to be president.
Mic has ongoing presidential coverage. Please follow our main election hub as well as coverage of Donald Trump and Hillary Clinton.