Tracy Morgan will make his return to television in a new TBS sitcom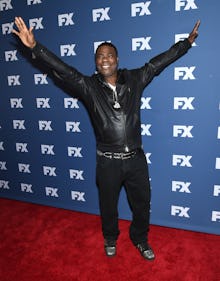 Tracy Morgan will make his long-awaited return to series television on TBS. The former 30 Rock star and comedian's untitled half-hour sitcom was picked up by the network; he'll serve as the new series' lead, with Key and Peele's Jordan Peele a co-creator alongside John Carcieri.
In the tradition of 30 Rock, Morgan will play a character that shares his first name, which, per the Hollywood Reporter, will "capture Morgan's stand-up persona while also serving as a commentary on race relations, the Gen X-millennial gap and the American penal system." 
Morgan portrays an ex-con who, after a 15-year stint in prison, returns to Brooklyn, New York City, and tries to reacquaint with his family and society. Given Brooklyn's real-life gentrification over this period — coupled with the fact that Morgan's former girlfriend on the series will have married a white man while he was in prison — it's a timely commentary they're clearly eager to explore.
"Tracy and Jordan are two of today's most sought-after and authentically funny comedians, and this show captures all the hilarity you would expect from this brilliant duo," TBS' executive vice president of programming, Brett Weitz, said in a statement. "TBS is becoming a home for the most creative and diverse comedy creators in the business, and Tracy and Jordan are a perfect fit for this network." 
It's Morgan's return to series television after a 2014 near-fatal car accident left the actor in a coma for two weeks. Morgan had since returned to host Saturday Night Live, performed stand-up shows across the country and had longstanding talks with FX about the untitled sitcom. With the network passing on the opportunity, however, TBS won out over Comedy Central, per the Hollywood Reporter. 
With the news of Morgan's imminent TV return, fans shared their excitement in the Twitterverse.