Mariska Hargitay praises Hillary Clinton's "fierce will" in a powerful 'Elle' op-ed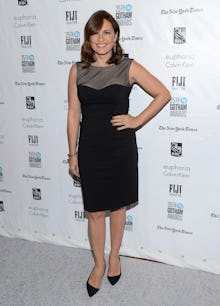 In a compelling piece published by Elle on Monday, Law & Order: SVU actress Mariska Hargitay declared her support for Democratic nominee Hillary Clinton, praising her "determination, tenacity, poise, strength," and her "fierce will to fight for what is good."
"As the 2016 election nears, I cannot urge strongly enough: Be involved. Vote," Hargitay said. "As for where I stand, I'm with her. I stand with Hillary, enthusiastically and with all conviction." Hargitay, who has played special victims unit detective Olivia Benson for 17 years, used her acting gig as a launchpad into sexual assault survivor advocacy.
Hargitay called Clinton's "Stronger together" slogan a "rallying cry for the anti-violence movement" and threw shade at Republican presidential candidate Donald Trump, whose campaign has recently been tainted by allegations of sexual assault.
"We must indeed all work together to dismantle the deeply entrenched societal attitudes that have helped perpetuate this violence for so long, attitudes which have found such a dismaying spokesman during this election cycle," she wrote.
Hargitay's Joyful Heart Foundation helps survivors of sexual assault and domestic abuse in the U.S. Hargitay has also helped raise awareness about the problem of backlogged, untested rape kits, which she mentions in her op-ed.
Whether it is arguing for change in how campuses address the epidemic of sexual assault, drawing attention to the use of rape as a weapon of war, or advocating for the criminal justice system to do all that it can to ensure victims of sexual assault have full access to all the tools at law enforcement's disposal, including the mandatory testing of all rape kits, Hillary has a vision and a plan for action. And after a lifetime dedicated to working for the rights of women and girls, her vision and her plan are informed, hard-won, and comprehensive.
In her sign off, Hargitay used Trump's own words to undercut him: "And yes, Hillary, in case you were wondering, this makes you the Law & Order candidate." 
Read the whole endorsement here.