Here's proof that Ina Garten and her husband Jeffrey are absolute #RelationshipGoals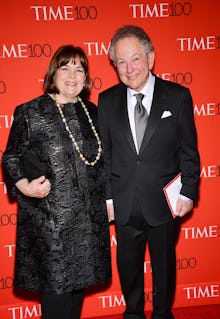 Especially with the dramatic downfall of Brangelina, it seems like more and more of our celebrity couple idols are crumbling before our eyes.
Luckily, one barefoot contessa and her spouse are here to remind us all that love is real (and delicious). Too cool for even a couple name, this Food Network star and her husband married on Dec. 22, 1968 and have been freaking adorable ever since. As Jeffrey Garten told Food Network about first meeting Ina on Dartmouth's campus, where he was a student and she was visiting her brother, "I don't want to make it seem supernatural or anything, but I saw everything that was to be. I just knew she'd be the kind of woman I'd want to be around forever." Break out the tissues.
Ina's newest cookbook, Cooking for Jeffrey, out on Tuesday, supplemented by special "Cooking for Jeffrey" episodes of her show, Barefoot Contessa, which kicked off its 24th season this fall, is a testament to her love for food, and, of course, her partner. Dedicated to "Jeffrey, who makes everything possible" (are those tears or cooking water stains on your copy?), the new cookbook even has a list of "Jeffrey's all-time favorite dinners," referencing recipes in her other cookbooks, which is both completely adorable and industrious. What a couple!  
Need some more evidence that this duo is #RelationshipGoals? Take a look:
She takes pictures of him eating salad in a puffy vest.
Too cute. 
They stroll together on autumnal sidewalks.
Even though it's posed, it's way cuter than any of those engagement pictures you hate-liked on Facebook. 
And just look at their vacation selfies!
They get Champagne drunk in the morning together ... 
Seriously. Marry someone who's all about the bubbly before breakfast. 
... and they drink at night together.
Really idolize how they capture all their wine intake with love. 
Really though, all these across-the-table portraits are just too much.
It's like he's always posing for her, in the best way possible. 
This wedding photo may just make you tear up from joy.
Look how happy they were! And still are! How good must that cake be?
This #TBT is really too much.
Captioned: "#tbt Twelve years before Jeffrey and I met. Does it look like I'm wondering where he is??" OMIGODSTAHP YOU TWO. 
The sweetness never ends.
I mean, cotton candy and public Internet flirting for a couple over the age of seventeen? Too cute. 
Aren't they just the best?
The. Best.
True love does exist!