'Overwatch' Sombra release date rumors: Could her arrival be just one day away?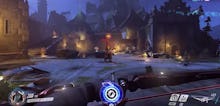 Are you obsessed with Overwatch Halloween yet? Blizzard recently released a new patch for Overwatch that gave players access to over 100 custom Halloween skins (costumes) and a new co-op brawl mode called Junkenstein's Revenge. The update was well-received and satisfied a number of Overwatch fans, but some were left disappointed: There was no sight of Sombra, the long-rumored new hero the community has been waiting for.
Sombra's absence could cease very soon, however. A new rumor is spreading across the Battle.net Overwatch forum that pegs Sombra's arrival in just under 24 hours. The speculation caught fire thanks to a mysterious website that showcases a countdown clock and completion percentage. 
At time of writing, the completion percentage is 98.6384%, with 21 hours and 57 minutes left until completion. "It seems that things are are warming up a little... gotta go unnoticed while it completes," reads a cryptic "hidden message" in the middle of the page.
Sombra is expected to make her debut sometime in the fall. Many thought the Halloween patch would introduce her to the game, and some now lean toward November's BlizzCon to showcase the character. This new possibility falls right in the middle of those two events.
This rumor, as always, must be taken with a grain of salt, but the Overwatch forum seems pretty excited about it. Mic will keep you posted.