#BillyBushMadeMeDoIt trends as Trump video scandal ends Billy Bush's NBC career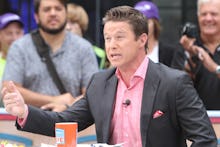 Billy Bush's career with NBC is officially over, courtesy of the Washington Post's release of a 2005 videotape capturing the Access Hollywood host gleefully responding to Republican presidential nominee Donald Trump as the latter bragged about sexually assaulting women.
In the tape, released Oct. 7, Bush is heard joking with Trump as the now-candidate said his fame enables him to kiss women without their consent and even "grab them by the pussy" without repercussions. The fallout for Trump was severe, costing him the endorsements or support of a great number of high-profile Republican officials. Now the reckoning has come for Bush as well, with CNN Money reporting his relationship with NBC is officially terminated, effective immediately.
Bush had just begun a hosting gig with NBC's morning show Today.
Thanks in large part to pre-released footage of a Monday night CNN interview in which Trump's spouse Melania said Bush "egged on" the real estate mogul, the mocking hashtag #BillyBushMadeMeDoIt trended on Twitter. Thus insult was added to injury:
However, according to CNN Money NBC bought Bush out of some portion of his "three-year, $3-million-a-year contract," meaning the host likely walked out of this meltdown with a couple million in his pocket. Sounds a lot like Trump.