Stephen Colbert helps Obama polish his résumé, takes digs at Donald Trump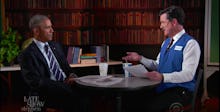 While we'll have to wait until November to see who'll be moving into the White House, there's one guarantee: Next year, President Barack Obama will be out of a job. But if Obama is feeling a bit rusty about polishing off his résumé for the first time in eight years, The Late Show's Stephen Colbert is willing to help with a mock job interview. 
In character as Randy, the generic, soda-sipping store manager, Colbert pressed Obama on his last position, and more importantly, why he didn't get any "promotions" in the past eight years. 
"Honestly, there wasn't a lot of room for advancement in my last job," Obama explains. "The only one with a more powerful position was my wife." 
Obama was able to rattle off a few achievements however, noting that he's received almost 30 honorary degrees in addition to a Nobel Peace Prize. 
"Oh really?" Colbert says. "What was that for?" 
"To be honest, I still don't know," Obama replies. 
Obama's big message, however, was catered to Millennials, as he urged them to vote in November for the "most important election of their lifetimes." But while it was a resonant message that should be heeded, Colbert was more interested in the Snapchat filters on his phone — a not-so-subtle dig at Millennials typically portrayed as having short attention spans. At least we got to see Obama with a flower crown Snapchat filter.  
Colbert also asked Obama to make a choice between two snacks — one that serve as a fitting analogy for Donald Trump and Hillary Clinton.
"I have two choices for you here," Colbert says. "Would you care for an extra fiber nutrient bar, which has traveled to more than 100 countries, or this shriveled tangerine covered in golden retriever hair, filled with bile, that I wouldn't leave alone with the woman I love?" 
"Well, I think I'll go with the fiber nutrient bar," Obama concludes. 
Watch Obama's mock job interview with Colbert below.