Chris Wallace Fox News career, net worth and other facts to know about debate moderator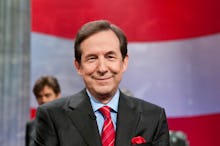 The moderator of the third presidential debate has a more than 50-year history in broadcasting. At 17 years old, Fox News Sunday anchor Chris Wallace worked for Walter Cronkite at the Republican National Convention in 1964. Since then, Wallace has interviewed presidents, celebrities, world leaders and other big names as a host on multiple news networks. 
Here's what to know about Wallace as he hosts the final debate between Donald Trump and Hillary Clinton less than three weeks before Election Day. 
He went to Harvard College.
Wallace is an alumnus of Harvard College, the undergraduate liberal arts college at Harvard University. He started in broadcasting with an NBC affiliate in New York City in 1975. 
He is the only person to host two Sunday talk shows.
From 1982 to 1989, Wallace was NBC's chief White House correspondent. He covered presidential campaigns and moderated Meet the Press from 1988 to 1989, making him the only journalist to host two Sunday talk shows. After NBC, Wallace spent 14 years at ABC News before joining Fox News.
Wallace's Fox News career
Wallace joined Fox News in 2003, seven years after the most conservative-leaning cable news network of the major three launched. That year he began moderating Fox News Sunday, one of the leading political talk shows in terms of viewership. 
In 2006, Wallace told the Washington Post he believes journalists should vote and participate in the political process. At the time, Wallace was a registered Democrat because he said it was the only party of consequence in the District of Columbia. 
Wallace has been tough on Trump and Clinton this election cycle, pressing them both in interviews. Recently, however, Wallace said the role of a debate moderator is to be more of a "timekeeper." 
"If I think there's a need for me to intervene, I will," Wallace said on Fox. "But I would prefer not to." 
Wallace will be the first Fox News journalist to host a presidential debate. Unlike Fox News personalities Sean Hannity and Bill O'Reilly, Wallace may be considered more of a traditional journalist who does not pick sides between the candidates. This stands in stark contrast to Hannity, who has used his show as a platform to boost Trump. 
Chris Wallace's net worth
The Richest estimates Wallace's net worth is $6 million, and his annual salary is $1 million. That is substantially lower than other presidential debate moderators this year. NBC's Lester Holt may be paid as much as $10 million a year, and CNN's Anderson Cooper reportedly made $11 million in 2014.