Khloé Kardashian's Good American is the inclusive denim line we've been waiting for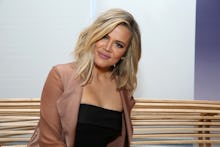 Just like her sisters, Khloé Kardashian is a woman of many talents: reality star, entrepreneur, lifestyle and fitness blogger, and now, a fashion designer, with a new premium denim line called Good American that launched on Tuesday. 
But unlike most celebrities-turned-designers, Kardashian decided to do some good with her fashion launch, ensuring that her collection was highly inclusive, going up to a size 24. According to the Good American website, the collection was "inspired by [the] belief that everybody deserves to be shown off." 
In Instagram posts on Kardashian's own account prior to the launch, she indeed made sure to cast models with a variety of different body types wearing her jeans, which thrilled many of her fans eager for a denim line that could fit both their hips and their waist. 
"I think the selling point for me was having a really wide range of sizes and not trying to segregate people into shopping the plus-size. I really want to break down those barriers and have a denim line for real women," Kardashian recently told E! News. "When I used to shop for premium denim at high-end boutiques, they would go up to a size eight or ten. I was I'd say a size 12 at the time and I would get so embarrassed going with my sisters."
Although Kardashian's mention of "real women" is a bit problematic, since anyone who identifies as a woman is, in fact, a "real woman," her point is that she wanted to create a line that's inclusive to as many women as possible. 
"I want to be able to have denim because even if you're a little bigger, you still want to be trendy and cute and show off your curves," she continued to E!. 
And indeed, when the collection debuted on Tuesday on GoodAmerican.com, Nordstrom.com and at select Nordstrom stores, it was evident that Kardashian had kept all of those things in mind, ignoring the standard to have plus-size jeans separate from the size 2s and 4s and 6s, and instead choosing to separate the styles into three categories: Good Legs, which are jeans that allegedly sculpt your legs, Good Cuts, which promise to slim the hips, and Good Waist, which are high-rise and have elastic in the waist. 
Additionally, the jeans on the website are modeled by women of different sizes, like Gabi Gregg, a well-known plus-size model and blogger, and Nadia Aboulhosn, who's also a model and blogger. 
As far as prices go, the jeans are going for $149 to $215. 
So although Khloé Kardashian has had her missteps, Good American seems like a job well done.