Facebook privacy policy change: Is that status about your posts going public real or fake?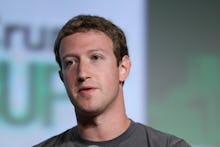 If you spot a fear-mongering status on Facebook urging you to declare your right to privacy, don't worry — it's a hoax. It's still a hoax. 
The latest message making the rounds on Facebook looks like this:
Deadline tomorrow !!! Everything you've ever posted becomes public from tomorrow. Even messages that have been deleted or the photos not allowed. It costs nothing for a simple copy and paste, better safe than sorry. Channel 13 News talked about the change in Facebook's privacy policy. I do not give Facebook or any entities associated with Facebook permission to use my pictures, information, messages or posts, both past and future. With this statement, I give notice to Facebook it is strictly forbidden to disclose, copy, distribute, or take any other action against me based on this profile and/or its contents. The content of this profile is private and confidential information. The violation of privacy can be punished by law (UCC 1-308- 11 308-103 and the Rome Statute.) NOTE: Facebook is now a public entity. All members must post a note like this. If you prefer, you can copy and paste this version. If you do not publish a statement at least once it will be tactically allowing the use of your photos, as well as the information contained in the profile status updates. DO NOT SHARE. just copy and paste. 
"Don't believe it," Facebook said in June in response to an identical status flooding the social networking platform. "You own your content and can control how it is shared through your privacy settings."
This is a hoax that can be traced back to November 2012, and like a game of Whac-a-Mole, it just keeps randomly popping up. 
While Facebook may know a hell of a lot about you — your location, age, anniversary, relationship status, political alignment, how many employees your company has, your email service, credit card type, preference in TV shows and much, much more — it's not going to publish your private and deleted information for your digital world to see. 
So if your mom, dad, aunt, uncle or second cousin once removed posts a status like the one above, gently remind them that not everything you read on the internet is true. (This is, though. We promise.)