Montana judge gave no prison time to man who admitted to raping daughter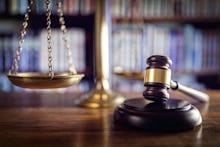 A Montana man who raped his 12-year-old daughter will do a tiny fraction of his expected time behind bars after a judge suspended what would have been a decades-long prison sentence on Oct. 4. Now, people are petitioning for his impeachment. 
According to CBS News, the Glasgow, Montana, man pleaded guilty to incest in 2015. (Mic will not name him to respect the victim's anonymity.) Valley County District Court Judge John C. McKeon gave him a 30-year suspended prison sentence plus 60 days in jail, but credited him for the 17 days he had already served. 
In addition to his 43-day jail sentence, the man will have to register as a sex offender and undergo sex offender treatment, but critics of the sentence say that doesn't go far enough.
"A father repeatedly raped his 12-year-old daughter," Deputy Valley County Attorney Dylan Jensen reiterated during the sentencing hearing, according to CBS. Dylan asked for a 100-year prison sentence with 75 years suspended, meaning the man would spend 25 years behind bars. 
The recommendation came as part of a plea deal, which applied only to one instance of sexual assault. According to the Glasgow Courier, Jensen acknowledged that the man appeared "contrite" but insisted his actions warranted a more serious punishment. 
McKeon, for his part, said his sentencing was appropriate and in line with state law. In a statement to the Associated Press Friday, the judge pointed to a psychosexual evaluation of the man, which found that with treatment and community supervision, he would not be a threat. Those findings excepted him from the state's 25-year mandatory sentence for incest involving a child 12 or younger.
The victim's family, however, backed McKeon's decision. According to the AP, her mother appealed the court to let her "children have an opportunity to health the relationship with their father" even as she denounced his actions. The victim's grandmother agreed that the man had done a "horrible" thing, but agreed with the mother, apparently out of deference to the man's two sons, who would be "devastated if their dad was no longer a part of their lives." 
Because the past few months have seen many men convicted of sexual assault and rape walk out of courtrooms with little or no jail time, McKeon's decision is not necessarily surprising, but it is alarming — at least to the people who elected him.  
At time of writing, nearly 15,000 people had signed a Change.org petition calling for McKeon's impeachment, noting that "no one spoke on behalf of the 12-year-old child at trial" and alleging that "McKeon did not uphold the responsibility of ensuring justice as he is required to in his elected position." McKeon is retiring in November and petitioners do not want him to receive retirement funds from the state.
"This has to stop," the petition reads.