Latest Florida polls: Is Donald Trump or Hillary Clinton winning the swing state?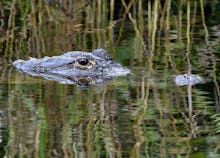 A month ago, Donald Trump had gained a narrow lead in the key swing state of Florida. But after two presidential debates "won" by Hillary Clinton, the release of the #TrumpTapes, numerous allegations that Trump sexually assaulted women and the Republican candidate's declarations the election is "rigged," Clinton has the lead in the Sunshine State — and her edge seems to have grown in the past week.
Poll numbers
Clinton leads Trump by more than three percentage points in Florida, according to the RealClearPolitics polling average. Polls released in the last few days put Clinton's lead around four points. 
Latest projections
Even under its most conservative polls-plus forecast, FiveThirtyEight gives Clinton a more than 70% chance of winning Florida. Sabato's Crystal Ball projects Clinton will take Florida's 29 electoral votes, while Cook Political Report and RealClearPolitics still list the state as a toss-up. 
Florida's role in presidential elections is notorious. In 2000, George W. Bush beat Al Gore by a few hundred votes in a recount that the U.S. Supreme Court called in Bush's favor. Since 1976, Florida has voted for each presidential winner except in 1992.
The takeaway
Trump's lagging poll numbers in Florida and other states bode poorly for his chances of taking the White House. Nationally, Trump is about six points behind where Mitt Romney was at this point in 2012. Four years ago, Romney was losing to Barack Obama by about a point.
If Trump's numbers stay this low, states like Florida will go to Clinton and she will be the next president.