'Pokémon Go' update: Are legendary birds Articuno, Zapdos and Moltres coming in Gen 2?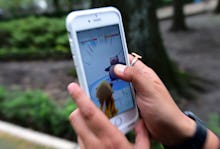 If you're trying to catch 'em all but can't seem to find those pesky legendaries, your life may be about to change: More rumors regarding the second generation of Pokémon Go are beginning to surface, and right now, there's talk circulating about the introduction of the three legendary birds — Articuno, Zapdos and Moltres. 
Several sources are claiming Niantic is planning to unveil the legendary birds at anevent sometime in the near future. Details are extremely vague, but some are suggesting the birds' arrival, along with the rest of Generation 2, could happen in March 2017. 
We definitely know more Pokémon will eventually enter the game, so it's not unfathomable to expect legendary Pokémon. What's more likely at this juncture, however, is that players will run into Johto-region Pokémon first introduced in the Game Boy games Pokémon Gold & Silver before they get their shot at Kanto's legendaries.
This could mean new starter Pokémon and evolutions (Golbat to Crobat, for example) are in the cards. 
Gameplay updates are expected in Generation 2, as well. Pokémon trading and player-to-player battling are among the most requested features. Niantic is reportedly planning on implementing the features in the next major update.
Pokémon Go is coming off of a recent update which addressed some minor issues, but Generation 2 is expected to be a literal game changer. Perhaps it can reignite fan interest in the wake of decreasing use.