Latest Ohio polls: Is Donald Trump or Hillary Clinton winning the swing state?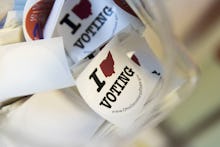 Earlier in the election, Ohio seemed like it was sold on Donald Trump. But after two presidential debates "won" by Hillary Clinton, the release of the so-called Trump tapes, numerous women alleging that Trump sexually assaulted them and the declarations by the candidate that the election is "rigged," Clinton has knotted the score in Ohio. And while Clinton can probably win the White House without Ohio, it's widely believed that Trump probably can't. 
Poll numbers
At the beginning of October, Trump held a nearly 4 percentage point lead over Clinton in Ohio polls. Now, polls show the candidates within the margin of error. As Clinton moves resources to secure leads in battlegrounds while targeting the traditionally Republican Arizona, Trump must fight just to keep his chances alive with a win in Ohio. 
States that are already likely to go Democratic on Election Day give Clinton 256 electoral votes to begin with. A victory in Ohio would put Clinton over the 270 electoral votes needed to win.
Projections
In 28 of the past 30 presidential elections, Ohio has voted for the winning candidate. But in 2016, the state has less influence. While the state is a must-win for Trump (no GOP candidate has ever won a general election without winning Ohio), Clinton can secure victory with wins in other states. So while most election analysts still rate Ohio as a toss-up for Election Day, the fact that Trump must spend time and money to win Ohio hurts him elsewhere. 
The Cook Political Report indicated Ohio could go either way. Sabato's Crystal Ball shows the state leaning toward Clinton. And as of Tuesday afternoon, FiveThirtyEight gave Trump one of his highest chances for victory in Ohio — 43.7% under its polls-plus forecast, which least favors Clinton.
The takeaway
Trump's struggle to pull ahead of Clinton in Ohio bodes poorly for his chances. Nationally, Trump is about five points behind where Mitt Romney stood at this point in the 2012 race when Romney trailed Barack Obama by about a point.
That Ohio is still anyone's game isn't assurance enough for Trump. If the Republican cannot boost his numbers in Ohio and then pivot to poll improvement in states like Florida and North Carolina, then Clinton will win the White House.