Lady Gaga's new song "A-Yo" drops three days before 'Joanne' album — listen here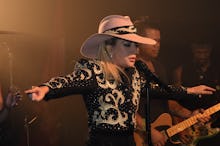 Amid all the fascinating developments happening in music right now, Lady Gaga, one of the more adventurous and boundary-pushing artists in pop, is exploring country. It's a choice many of her fans may never understand (or forgive her for), but her takes on such well-worn musical territory are at least interesting. Her latest single "A-Yo" is the most defensible yet.
Gaga released the song midday Tuesday. It's the third single off Joanne, following "Perfect Illusion" and "A Million Reasons." It comes with cover art similar to the album's, except the artist appears topless, clutching her breast with one hand mid-twirl. It's Americana Gaga, ready to get buck wild at the cornfield party, or dive bar, or wherever. The song matches the image's no-fucks-to-give energy.
So far on the spectrum of songs released thus far, "A-Yo" sits directly between "Perfect Illusion" and "A Million Reasons." It has more of the "Perfect Illusion" electricity. It makes a similar sidelong glance toward the never-ending dance party that is pop radio. Yet it has a healthy dose of the "A Million Reasons" acoustic instrumentation and folk-inspired songwriting.
The song's boom-clap-clap beat is a tried-and-true pop rock mainstay — and its lyrics about smoking one's whole pack of haters "like Marlboros" — will make for solid sing-a-long fare.
According to an interview Gaga did recently with Rolling Stone, her country fascination is not new. Her love for the genre, Garth Brooks in particular, has roots all the way back to her childhood.
"When I was little, my father used to play 'I've Got Friends in Low Places' really loud in the basement, and I'd catch him down there dancing by himself, screaming real loud," she said. "I thought it was cool."
In that interview, she clarifies she's not a country musician now, so country purists and "Disco Stick" fans can put their pitchforks away. "I'm just a musician period," she said. "I love all different kinds of music and this is just what I wrote." 
There will likely be a wide range of genres captured on Joanne, which drops Friday, Oct. 21 — likely a little blues and rock 'n' roll, which Gaga also nods to in the Rolling Stone interview. It's won't be exactly the Gaga fans fell in love with in the first place, but if "A-Yo" is any indication, the album may have a pleasant surprise or two in store.
Listen to "A-Yo" below, courtesy of Spotify.
October 18, 2016, 12:14 p.m.: This story has been updated.