MacBook Pro 2016 rumors: Could Apple ditch the USB port on new laptop?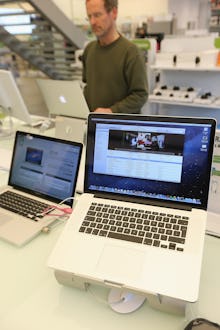 It's about time, Apple. We need new MacBook Pros, and it looks like the announcement and release date are just weeks away. A new Macotakara report indicates Apple will launch an updated MacBook Pro in late October with 13- and 15-inch options. 
What's more, we might even get to see a new MacBook Air.
MacBook Pro 2016 release date
We don't know exactly just yet, but recent rumors tell us Apple might announce the MacBook Pro 2016 at its Oct. 27 earnings call.
MacBook Pro 2016 rumors and what to expect
Basically, the next MacBook Pro will likely be a thinner, lighter laptop. It'll probably have that new, flat keyboard that takes a while to get used to.
Something that might also take some time to adjust to: new USB ports. "Apple is said to be including USB Type-C and Thunderbolt 3 ports on the new MacBook Pro, and ditching traditional USB ports," the Verge reported. On the plus side, Apple may reportedly add more than one port to the 2016 MacBook Pro — an upgrade from the current MacBook line.
Other rumors suggest Apple is ditching the MagSafe charger (ugh) in favor of the USB-C plug that's on the 2015 MacBooks, so you'll probably need an adapter.
We've been hearing about something called a "dynamic function row" for months now — a long OLED screen at the top of the keyboard that swaps functions according to whichever app is open. It looks useful! Check out some concept art and judge for yourself. This will likely be the key feature on the new laptop. 
How about that MacBook Air?
According to Macotakara, Apple may lose the tiny, too-small-to-be-practical 11-inch laptop and upgrade it with USB-C. It might debut on the same day as the MacBook Pro. 
Mic will keep you updated with new rumors as the date gets closer.