An offensive statue of a nude Hillary Clinton just showed up in New York City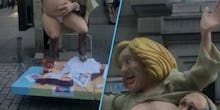 Sometime early Tuesday morning, a statue depicting Democratic Presidential nominee Hillary Clinton as a cloven-hoofed devil-woman with exposed breasts and mouth agape, showed up in lower Manhattan, New York. People who saw it were, well, upset enough to start a brawl.
The Daily News reported that the statue, created by an artist who identified himself as 27-year-old Anthony Scioli, was erected just outside of the National Museum of the American Indian, near the Bowling Green subway station. 
Witnesses who work in the area told Mic it was up as early as 6:30 in the morning.
The statue, which depicts a Wall Street banker kissing the figure's breasts, was up for "less than three hours," according to the Daily News, before a woman who was reportedly angry at the obscene caricature knocked it over, and then sat on it to prevent Scioli from picking it back up. Bystanders reportedly began "picking sides" in the fight.
"To put something up like this in front of my work place," the woman who toppled the statue, identified only by her first name, Nancy, later told the Daily News. "I shouldn't have to see this."
The statue is slightly similar in tone to the unrelated series of naked sculptures of Donald Trump that popped up in cities across the country back in August. But Scioli's depiction of Clinton featured what appear to the bloodied legs of a goat — a symbol linked to the devil. It's arguably a step further than sculpting a nude Trump with a small penis.
The aforementioned Trump statues inspired plenty of selfies and gleeful tweets, but many criticized the inherent body shaming at play. And many were quick to point out on social media that there's lots to criticize Trump for, besides his body.
According to the Daily News, police officers reportedly arrived at the scene around 8:30 and told Scioli he had to remove the Clinton sculpture because he did not have a permit. 
Witnesses said they saw police officers taking the statue away in a van.