'The Walking Dead' season 7: What we know about Negan from his comic book character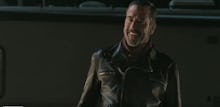 For non-comic book readers who watch AMC's The Walking Dead, there were probably a slew of questions after the show's season six finale introduced a villain sporting a black leather jacket and a barbed wire-laced baseball bat. 
"You're Rick, right?" he says to the series' protagonist. "I'm Negan. And I do not appreciate you killing my men." 
The Walking Dead's introduction of Negan (played by Jeffrey Dean Morgan) was overshadowed by a frustrating cliffhanger, in which the villain used his signature bat to brutally beat a victim whose identity remains a mystery. But make no mistake, Negan's introduction is a big move for the show. In The Walking Dead's comic book series — of which there are over 150 issues — the character is widely considered to be the series' most memorable villain, and its most prominently featured. 
Ahead of the season seven premiere on Sunday — which is sure to include many more scenes with Negan and his crew — here's what you need to know about the character based on the comics. 
(Editor's note: Spoilers for The Walking Dead comics ahead). 
He shares a lot of leadership characteristics with Rick, for better or worse. In many ways, Negan is the personification of Rick's darker tendencies as a leader in the post-apocalyptic world, which is part of the reason he's popular among fans. Whether readers and viewers are cognizant of the similarities or not, as Morgan notes in an interview with Den of Geek, we'd probably view Negan as the hero of the story if we followed his path from day one. 
"I view him as a guy who's survived this long in this apocalyptic world," he told Den of Geek. "If this show, seven years ago, had started following Negan instead of Rick Grimes, then he would be the hero of the story. I don't think he's necessarily 100% evil. I think he's just done what he has done in order to survive this long." 
In place of Rick's group, Negan has the Saviors, who follow a cold and calculated method of survival that Negan instilled in them. They'll help protect other communities, but in exchange, they're allowed to take a good chunk of their supplies. It's what he wants from Rick and his group when he encounters them, and it's why he uses the threat of his barbed wire-covered baseball bat (yes, he will kill someone; more on that later) as a warning of what would happen if they don't comply. 
In other words, he ultimately wants order amidst the post-apocalyptic chaos, in the same way Rick does — like when he fosters a community in Alexandria. 
He loves his bat and swears a ton. In place of a significant other, Negan has his aforementioned bat, which he affectionately calls Lucille. How attached is he to Lucille? Morgan has, quite literally, referred to Lucille as an extension of his penis. 
Negan's other memorable quality is his penchant for swearing, as he drops endless F-bombs in the comics with a maniacal charisma. Of course, the character can't swear on a network like AMC with the same veracity, but fear not, they've filmed profanity-laced scenes for the character that will be available in other formats — such as an uncensored season six finale on DVD.  
He is responsible for the most gruesome death in the comics. Part of the frustration in the show's season six cliffhanger was its abrupt end to Negan's beatdown of an unspecified character — which, in the comics, was a huge turning point. 
That victim ends up being Glenn — arguably, the group's moral compass in both the comics and the show. The death, in turn, is a sobering tonal shift. It's especially heartbreaking, too, when you consider that Glenn's pregnant wife Maggie had to witness his gruesome death right in front of her. 
Negan commits other atrocities in the series, but he'll always be remembered for killing Glenn in the comics' 100th issue. It's a reality that's just beginning to dawn on Rick and the group in the show version, but as Negan chillingly intimates before he beats down on the mysterious victim, they'll know soon enough. 
Starting Sunday, it's going to be Negan's world. Rick's just living in it.