Obama tells Donald Trump to "stop whining" about the election being rigged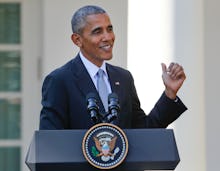 President Barack Obama responded Tuesday to Donald Trump's recent baseless accusations that the presidential election will be "rigged," telling the Republican nominee to "stop whining."
Speaking at a press conference with Italian Prime Minister Matteo Renzi in the White House Rose Garden on Tuesday, Obama fielded a question about potential violence at polling places and whether Trump's comments would cast doubt on the election results.
"There is no serious person out there who would suggest somehow that you could even rig America's elections, in part because they're so decentralized, and the numbers of votes involved," Obama said. "There's no evidence that that has happened in the past, or that there are instances in which that will happen this time."
"I'd advise Mr. Trump to stop whining and go try to make his case to get votes," Obama said, referring to Trump's unfounded contentions that a global conspiracy is set to fix the election for Hillary Clinton.
Trump has stepped up his accusations that the election will be "rigged" as his campaign has become increasingly unraveled over the past several weeks. In a speech in Wisconsin on Monday, Trump told the crowd that "we are competing in a rigged election. They even want to try and rig the election at the polling booths, where so many cities are corrupt and voter fraud is all too common."
"I have never seen in my lifetime or in modern political history any presidential candidate trying to discredit the elections and the election process before votes have even taken place," Obama said at the press conference, referring to Trump's efforts to cast doubt on the election results.
Trump has offered no evidence to support his claims. Indeed, many fellow senior Republicans and state election officials have blasted the Republican nominee's suggestion that such a conspiracy is even possible. House Speaker Paul Ryan, who has disavowed campaigning with Trump, said in a statement on Friday that he is "fully confident" the election will be carried out "with integrity."
On Tuesday, Obama noted that many of the officials who would be part of any such conspiracy are themselves Republican officials.
"Keep in mind, elections are run by state and local officials," Obama said, "which means that there are places like Florida, for example, where you've got a Republican governor whose Republican appointees are going to be running and monitoring a whole bunch of these election sites."
Obama also said Trump's insinuation reflects on what kind of president he would be.
"It doesn't really show the kind of leadership and toughness that you'd want out of a president, if you start whining before the game's even over," Obama said. "If whenever things are going badly for you and you lose you start blaming somebody else, then you don't have what it takes to be in this job."