Google Pixel Reviews: Here's what critics are saying about Google's new smartphone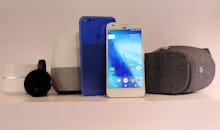 The embargo on the Google Pixel has finally been lifted, and the first reviews have arrived. Anticipation for Google's entry into the smartphone market is high, with some analysts rivaling the device to the iPhone and Galaxy S7. 
But is the hype truly warranted? Here's what critics are saying about the Google Pixel.
Google Pixel reviews
Wired has high praise for the Google Pixel, giving it a score of 9 out of 10. "Google Assistant is the first voice assistant that really works," David Pierce wrote in the review's summary. "You can't take a bad picture with the Pixel. So what if it looks like the iPhone? The iPhone looks great, and so does the Pixel." He did have one particular criticism, though: The Pixel is not water-resistant, unlike the iPhone 7 and Galaxy S7. And although he found Google Assistant helpful, Pierce conceded it's "hardly flawless."
The Verge doesn't mince its words, calling the Pixel a "home run" in the review's headline. "This is Google's first phone, and for a first effort it is remarkably good," Dieter Bohn wrote. "By almost every metric I can think of — speed, power, camera, smart assistant, you name it — it matches or exceeds the best phones available on the market today." Just like Wired, the Verge criticizes the Pixel's lack of waterproofing, and though it also admits Pixel's design resembles the iPhone, Bohn calls it "pedestrian."
The Wall Street Journal also speaks highly of the Pixel, calling it the "Android iPhone you've been waiting for." Throughout the review, writer Joanna Stern systematically broke down the Pixel in comparison to the iPhone 7, arguing the Pixel is superior. "While Google still needs to convince me why we should trust it with so much data, the Pixel succeeds in refuting many of the arguments I've long made for choosing iPhone over Android." Among them: design, camera, battery life, software and customer service. 
If you're skeptical, pay attention to Gizmodo's review, titled "The Google Pixel Is Too Dumb and Ugly to Replace Your iPhone." Reviewer Michael Nunez criticized Google Assistant, which he said is "basically just a glorified version of Google Now from last year's phone, and there's no way it's worth the extra few hundred dollars." Would Nunez "recommend this phone to the average person? The short answer is 'no.'"
The smartphone war is far from over, but Google may have just won the latest battle with a powerful device adored by virtually every critic thus far. Your move, Apple.