Typhoon Lawin update 2016: Philippines braces for possible super typhoon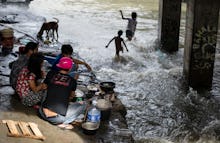 Only a day after Typhoon Karen, also known as Typhoon Sarika, retreated from the Philippines, the country is preparing for a new storm: Typhoon Lawin. Lawin is expected to become a "super typhoon" before arriving in the Philippines, the Philippine Star reported. Lawin is expected to hit the Philippines on Wednesday night, local time, according to Weather.com.
Lawin is predicted to make landfall in Northern Luzon, the country's most populous island, bringing with it winds that could be 220 kilometers per hour — about 136 miles per hour — or higher.
The storm currently has maximum sustained winds of nearly 115 miles per hour, but could intensify as it moves from open sea toward land, Esperanza Cayanan, chief of the Philippine Atmospheric, Geophysical and Astronomical Services Administration's weather division, told the Star. "We're not yet discounting the possibility that it could become a super typhoon."
Cayanan compared Lawin to super Typhoon Yolanda, also known as Typhoon Haiyan, which caused major destruction and a devastating storm surge when it hit the Philippines in 2013. Yolanda left at least 6,300 dead and 4 million people without homes, Time reported in 2014.
Officials in the Philippines are reportedly warning residents against "coastal activities," according to the Star, and are urging people in affected areas to seek guidance from local officials.