Taco trucks outside Trump's Las Vegas hotel take a scrumptious stand for immigrant workers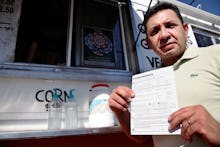 A "yuuuge" wall is being built, and it's all thanks to Donald Trump.
The Culinary Workers Union Local 226, a private sector local union in Nevada, is building a border wall of taco trucks around the Trump International Hotel in Las Vegas to protest against Trump's racist and anti-Mexican remarks, as well as, the unfair treatment of his immigrant workers.
The delicious endeavor has been an ongoing initiative for several days, just a stone's throw away from the University of Nevada, Las Vegas where the third and final presidential debate will be held. On Tuesday, the American Bridge 21st Century, a super PAC, cooperated with 122 food truck entrepreneurs all across the Las Vegas metropolitan area to help locals register to vote online for Election Day on Nov. 8. Over 400 people showed up in solidarity on Tuesday, according to American Bridge spokeswoman Dawn Le.
The perimeter of Trump's Las Vegas hotel are surrounded by not only by taco trucks, but by food truck entrepreneurs who wish to stand with Trump's workers and against his bigotry. Japanese burrito trucks, halal carts, a kebab truck, crepe truck and a Vietnamese banh mi sandwich truck are all expected to be in attendance. Tacos will also be provided to attendees at no charge.
A pseudo-brick border will also be posted up where workers at the Trump hotel can write down their name and their country of origin.
On Wednesday, the American Bridge organization, in cooperation with several Latino organizations, will be standing behind the Culinary Union. The mission this time isn't to register people to vote, but rather to send a message to Trump: They won't succumb to his bigotry.
"Mr. Donald Trump said he wants to make America great again, but here in Las Vegas, his employees are paid less than the culinary workers working on the Las Vegas strip," Culinary Union spokeswoman Bethany Khan said in a phone interview. 
"Most of his workers are women and immigrants," she continued. "They are making his hotels great again. Unfortunately, he doesn't support them with the dignity and respect they deserve."
Union 226, which has represented employees of the Trump-owned hotel in Las Vegas since Dec. 7, has had a long battle with the GOP nominee's company. 
Since its inception, Trump's Las Vegas hotel has refused to recognize the union and faced numerous attempts of intimidation. According to ThinkProgress, several employees — who are about 80% immigrant and over 50% women — claimed the hotel management threatened, verbally abused and physically assaulted them. 
Khan says that when workers were first organizing, Trump's Las Vegas hotel management fired five workers for wearing pro-union buttons. Under the National Labor Relations Act, it is a federal right for employees to wear pro-union buttons without intimidation or fear of employment termination.
"The managers claimed they weren't part of the union, and then fired five workers for wearing pro-union buttons," Khan said. "That's illegal. So we went to the National Relations Labor Board, got their jobs back, and the pay they deserve in lost wages from getting fired."
On July 21, the Culinary Union won and agreed to an $11,200 settlement for lost wages for discriminating against two pro-union workers. Then on Sept. 27, the Culinary Union released a statement calling on people to boycott all Trump businesses in protest of the GOP nominee's racist and xenophobic comments. 
Throughout his presidential campaign, Trump has vowed to build a wall between the United States and Mexico, labeled Mexicans as "thugs" and "rapists," and has horrifically called 1996 Miss Universe Alicia Machado, who happens to be Latina, "Miss Housekeeping."  
The frustration for Khan, the Culinary Union and Trump's culinary workers is rooted in the hypocrisy the real estate magnate emulates: He claims to be for the working class and business, but his own record and victims indicate otherwise.
The taco truck wall is also in response to Marco Gutierrez, founder of Latinos for Trump, who warned of his "very dominant culture" in a Sept. 1 interview with Joy Reid on MSNBC.
"My culture is a very dominant culture, and it's imposing and it's causing problems," the Trump surrogate said. "If you don't do something about it, you're going to have taco trucks on every corner."
Le said the taco truck protests are meant to symbolize what a "great America" is really all about.
"This is the kind of country I want for my children," Le said. "A country where people can come for a chance at the dream, a chance to provide for and raise their family, to have their own business and support themselves and give a better life for their children." 
The Culinary Union's Khan said that it's unlikely for Trump to fulfill his promise in making "America great again," when he can't even negotiate with or treat his workers fairly.
"Donald Trump wants to make America great again, but isn't even doing it at his hotel," Khan said. "Start here with us at the hotel."