How long will the third presidential debate between Trump and Clinton last?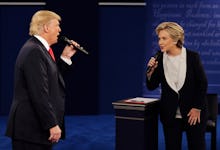 The third and final presidential debate will take place on Wednesday night at 9 p.m. Eastern at the University of Nevada, Las Vegas. The debate between Republican nominee Donald Trump and Democratic nominee Hillary Clinton will last 90 minutes.
The format will be similar to the first debate held on Sept. 26 in New York. Both candidates will be standing at podiums.
"Basically, the candidates decided that they wanted to stand," Janet Brown, executive director of the Commission on Presidential Debates, told the Las Vegas Review-Journal. "But the commission is fond of the seated format. We started using it in 2000 at the [vice presidential] debate, the Lieberman-Cheney debate, with [CNN anchor] Bernard Shaw moderating, and it was great." 
According to Brown, the seated format "has a totally different feel," and is "more civil."
"It just changes the physical dynamic," she told the Las Vegas Review-Journal. "We used it in the V.P. debate this year, too, and it was a positive piece of how that debate went."
During the second debate on Oct. 9 in St. Louis, the candidates appeared in a town hall format where they could sit or stand and walk around the stage.
The final debate will be moderated by Fox News' Chris Wallace. The topics were announced last week by the commission and will include debt and entitlements, immigration, the economy, the Supreme Court, foreign hot spots and fitness to be president.
The final debate before the Nov. 8 election is sure to draw a massive audience. The first debate was the most-watched in U.S. history, with 84 million viewers, according to Nielsen. The second debate garnered 66.5 million viewers.  
Mic has ongoing presidential coverage. Please follow our main election hub as well as coverage of Donald Trump and Hillary Clinton.