Republicans keep on falling for really obvious voter fraud pranks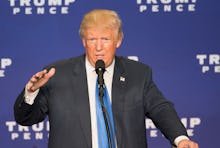 Republican presidential nominee Donald Trump, whose poll numbers have fallen precipitously in the wake of numerous scandals — including a videotape of the candidate bragging about groping women "by the pussy" without their consent — has in turn amped up predictions of a "rigged election" just as quickly.
In-person voter fraud throughout the U.S. is a rarity, let alone the kind of voter fraud capable of flipping an entire presidential election against Trump. So the political media has mostly interpreted the candidate's claims as a way of saving face, blaming racial boogeymen for his loss and possibly attempting to undermine the peaceful transition of power.
The rhetoric has also inspired numerous trolls to post fairly obvious pictures of themselves supposedly conspiring to commit voter fraud — and some Republicans are falling for it.
Twitter user Randygdub, for example, posted a tweet saying they "love working at the post office in Columbus, Ohio, and ripping up absentee ballots that vote for Trump."
Conservative sites and personalities that fell for the joke included the Drudge Report, Scott Baio, Rush Limbaugh, Curt Schilling and far-right site Gateway Pundit, as well as tabloids like the Inquisitor.
Randygdub's post eventually attracted the attention of authorities, thanks in large part to Gateway Pundit, a popular if dubiously inaccurate news source for some conservatives. As the Intercept reported, the tweet attracted the attention of both United States Postal Service investigators and GOP politician and Ohio Secretary of State Rob Husted.
Of course, even a brief perusal of Randygdub's Twitter would find that he also claimed to have been hired as a Trump surrogate to "go on CNN and say 'trump has never been horny'".
Other clearly fake posts also incurred the wrath of Trump supporters in recent days.
Twitter user Rob Whisman posted a (now-deleted) image of himself with what appeared to be numerous printed copies of his own ID, inspiring outrage from both a subreddit dedicated to Trump supporters and the candidate's followers on Twitter.
One of Whisman's recent posts, however, also claimed "a bunch of dead dudes said I could bring my shotgun into this Kroger."
Twitter user Lowenaffchen posted that he loves "how easy it is to take absentee ballots from old people's mailboxes, vote for Hillary Clinton and send them in before they notice," inspiring a Trump supporter to accuse him of committing a felony.
But Lowenaffchen also recently joked he was one of the "racist, Marxist, terrorists, murderers or 'truthers'" who supports Hillary Clinton that conservative author Janie Johnson posted about last week.
Just three weeks until Election Day.
March 12, 2018, 1:26 p.m.: This story has been updated to remove a tweet from a Twitter account that was found to be linked to the Internet Research Agency, a "troll farm" based in Russia.