Will Chris Wallace fact-check the Oct. 19 presidential debate?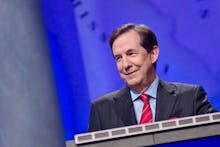 Chris Wallace will make history on Wednesday night as the first moderator of a presidential debate from Fox News.
But will he fact-check the debate?
Wallace, who has hosted Fox News Sunday since 2003, gave a very clear answer this week.
"If I think there's a need for me to intervene, I will. But I prefer not to," he told colleague Bret Baier on Fox News Sunday.
"Basically you're there as a timekeeper, but you're not a participant. You're there just to make sure that they engage in the most interesting and fairest way possible," he said.
Wallace, who has covered every president since Ronald Reagan, says he met both candidates for the first time back in 1988. They both have appeared on his Sunday talk show during this election.
"I take it very seriously. It's not a TV show that we're doing. This is part of civics. The Constitution, if you will, in action, because this is helping millions of people decide who we're going to elect as the next president," he said.
Wallace is the son of legendary CBS 60 Minutes correspondent Mike Wallace, who died in 2012 at the age of 94.
"There's a lot of pressure. There's a lot of stress. We've seen the previous moderators get criticized, and at certain points I've had to remind myself this may be a once-in-a-life opportunity so have fun — to the degree you can stop biting your nails — have fun with it," he said on Fox News Sunday.
Mic has ongoing presidential coverage. Please follow our main election hub as well as coverage of Donald Trump and Hillary Clinton.