Oct. 19 Debate Livestream: How to watch the third presidential debate online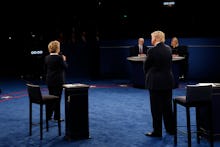 The final debate will be moderated by Fox News Sunday host Chris Wallace. Even if you do not have cable — or any television at all — there will be plenty of ways to watch the final presidential debate live, including several online livestreams. 
The first two presidential debates drew tens of millions of viewers to television screens. The first debate was the most-watched of all-time. The final debate comes after a slew of sexual assault allegations against Donald Trump and the release of emails that may damage Hillary Clinton's momentum.
How to livestream the third presidential debate
YouTube will offer a variety of livestreams of the debate. The platform is hosting live broadcasts from the major news networks and two national newspapers. Follow the links below to watch the debate and follow the analysis from your preferred news organization:
Background on Wednesday's presidential debate 
Wallace is the first Fox News journalist to host a presidential debate. Wallace chose the following topics for the final face-off: debt and entitlements, immigration, economy, Supreme Court, foreign hot spots and fitness to be president. 
The debate will begin at 9 p.m. EST. The Clinton vs. Trump meeting will last 90 minutes as the uninterrupted debate broadcasts live from the University of Nevada in Las Vegas. On the eve of the debate, Clinton led Trump by about 7 percentage points in the RealClearPolitics average of the latest national polls.
Correction: Oct. 19, 2016