A Chipotle employee reveals the one thing you should never order at the fast food chain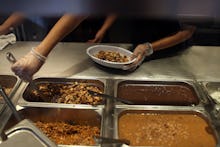 Chipotle may be renowned for its burritos as big as chihuahuas, but some still choose tacos at this chain Mexican grill.
Think three tiny tacos are a better option than a burrito, or at least a burrito bowl? Even the employees know there's something wrong with you. According to a recent Reddit thread that asks fast food workers what to never order from their employers, Chipotle workers agree that ordering tacos is a rookie move.  
"I used to work at Chipotle, and never ever ever order the Tacos," a user named KourageWolf wrote. "You get less than half the regular portions." If you're craving tacos, maybe you should have gone to Taco Bell.
Burrito proponents may be glad to learn that there's a hack to make the tacos worthwhile, however. "Instead, order a bowl with whatever you want in it, then ask for the taco shells, hard or soft, on the side," the Reddit user said. Depending on the Chipotle restaurant, the tortillas may be free with your order. 
Thread commenters recommended treating employees with kindness to ensure your fair share of free tortillas (this should always be the case, free tacos or not). If your local Chipotle offers it, you could also order the bowl online and request the shells on the side, to avoid any human interaction or awkwardness in the face of a menu hack, commenters said.
And if you want your hacked bowl tacos to be fresh, listen to Chipotle service manager and Reddit user soflopaintball's wisdom. "All peppers, lettuce, and tomatoes now come pre-shredded and washed," the user wrote. "Steak also now is pre-cooked (well heated in hot water before being shipped to us). Really the only in-house prep we still do is dicing onions and jalapeños and making guac. Everything else is coming pre-shredded and ready to serve at a central kitchen. Chicken and steak is still cooked on the grill. Chicken is still in-house marinated. Steak is in-house marinated as well, just comes pre-heated already, and when we throw it on the grill, it's only for 30 seconds each side." 
In other words, for fresh food at Chipotle, go for the chicken. And probably always add guac.