Oct. 19 presidential debate start time, channel, moderator and more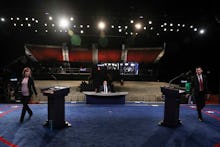 Hillary Clinton has a wide lead in the polls. Donald Trump has new material he can use to attack the Democrat. And unlike past presidential years, the second debate was more pugnacious than the first. 
The conclusion to the 2016 presidential debates will take place Wednesday night at the University of Nevada, Las Vegas. Here is what you need to know about the third and final presidential debate, including start time, where to watch and more.
Third presidential debate start time
The debate will begin at 9 pm EST. It will last 90 uninterrupted minutes. 
Third debate channel and how to watch
The major broadcast and cable news networks will carry the presidential debate live. The networks carrying the debate, according to OregonLive, are ABC, CBS, NBC, Fox, PBS, CNN, CNBC, Fox News Channel, MSNBC, BBC, Fox Business Network, and CSPAN.
There will also be several livestreams of the debate offered on YouTube, CSPAN, cnn.com and cbsnews.com, according to OregonLive. 
Third presidential debate moderator
Fox News Sunday host Chris Wallace will moderate the final debate. It is the first time a Fox News journalist has moderated a presidential debate. Wallace has been a news broadcaster for more than 50 years. 
What's at stake
With Clinton leading in national polls by an average of nearly 7 percentage points, Wednesday night's debate will be Trump's final chance to swing a large number of voters his direction at one time. In Nevada, for example, the presidential race was tied at the beginning of October. Now, Clinton leads by more than 4 points. 
With Wikileaks releasing new emails that could damage Clinton almost daily, Trump has a near-endless supply of new attacks he can levy on Clinton. But allegations of sexual assault against Trump, and his previously panned debate performances, may keep the Republican from capitalizing. Meanwhile, even a mediocre performance from Clinton could solidify her historic lead in the polls.
The potential viewing audience? More than 64 million people watched the second presidential debate. And the days since the last debate have not given voters any reason to stop following the presidential contest. Millions of eyes will be on Trump and Clinton as they meet one last time in Las Vegas.