Donald Trump will be bringing Obama's half-brother to third debate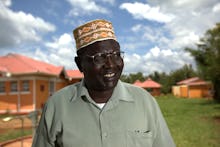 On Tuesday night, Republican presidential nominee Donald Trump's increasingly beleaguered campaign announced it had invited President Barack Obama's Kenyan half-brother, Malik Obama, to the third and final presidential debate with Democrat Hillary Clinton.
Malik Obama is a Trump supporter who earlier this year told the NYC-based tabloid New York Post "I like Donald Trump because he speaks from the heart. Make America Great Again is a great slogan. I would like to meet him." 
According to his interview with the Post, he was also against Obama's intervention in Libya and the death of its leader Muammar Gaddafi while Clinton was serving as his secretary of state. He also believes the FBI should have prosecuted Clinton for her use of a disallowed private email server while in that office.
"I look very much forward to meeting and being with Malik," Trump told the Post's Page Six. "He gets it far better than his brother."
Beyond that, it's unclear what the invite is supposed to accomplish. While Trump, a long-time showman, has regularly tried to add a certain degree of razzamatazz to his events by throwing political red meat to his far-right base, Clinton is not Obama, and Malik Obama is a little-known figure.