Khloé Kardashian responds to Donald Trump reportedly calling her a "piglet"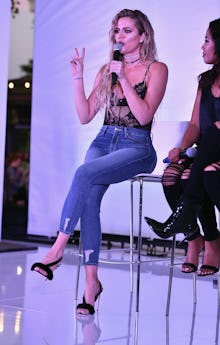 Khloé Kardashian is just one of many women Republican presidential nominee Donald Trump has reportedly said sexist and derogatory things about. On the set of Celebrity Apprentice is 2009, Trump allegedly called Kardashian a "piglet" and fired her without merit, the Huffington Post reported.
"What is this? We can't even get the hot one?" Trump said of Kardashian according to a staffer of the show. Another source told the Huffington Post Trump said, "Why don't we fire Khloé? She is a fat piglet. Why did we get the ugly Kardashian?"
Well, Kardashian is taking the highroad — and making it clear Trump's comments about her and other women make him unfit to lead.
"I didn't think he was saying those things about me," Kardashian told the Los Angeles Times. "But he says those comments about a lot of women — really derogatory things. Someone who is that simplistic to judge things off of surface is not someone I want running my country."
"It's not cool or appropriate for any person, male or female, to judge someone else by their looks," Kardashian added. "I find it really cruel. It's wild."
Trump has a well-documented history of saying disparaging things about women's looks, so his comments about Kardashian's weight are par for the course for the reality star.
"I'm a tough cookie, so something that he said — that's not gonna bother me," she told the Los Angeles Times.