Michelle Obama dons Atelier Versace attending her and Barack's final state dinner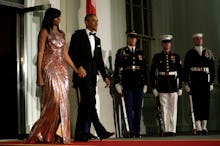 At last night's fourteenth and final state dinner hosted by President Barack Obama, first lady Michelle Obama — to borrow lyrics from Beyoncé's masterpiece "Formation" — "did not come to play with you hoes, [she] came to slay, bitch."
And that she did, shimmering from head to toe in rose-gold, chain-mail-esque Atelier Versace. "I am humbled and honored to have the opportunity to dress the first lady," Versace said in a statement. "Thank you Michelle for all of the things you have done for America and the rest of the world, for the women in the United States and the rest of the world."
The choice makes sense, to wear a dress by an Italian designer at a state dinner honoring Italy's prime minister, Matteo Renzi — especially a Versace dress, as the Italian fashion house, along with Gucci and Prada, is one of the most influential worldwide. 
In fact, earlier in the day, Michelle Obama wore Italian designer Giambattista Valli to greet Prime Minister Matteo Renzi and his wife, Agnese Landini.
Yet still, it is anything but an obvious choice considering Michelle Obama has not worn a non-American designer to a state dinner since 2011 when she wore a custom Alexander McQueen gown designed by Sarah Burton.
This dress received criticism from designer Oscar de la Renta, who at the time voiced his disapproval to Women's Wear Daily explaining: "My understanding is that the visit was to promote American-Chinese trade — American products in China and Chinese products in America. Why do you wear European clothes? I'm not talking about my clothes, my business. I'm old, and I don't need it. But there are a lot of young people, very talented people here who do."
That criticism is not entirely justified. Michelle Obama has made a point of embracing America's thriving young fashion scene from the very moment she set foot in the White House, wearing then 26-year-old American Designer Jason Wu to the inauguration. 
This was consider by many a career-launcher for the relatively unknown designer at the time.
In the years since, she's worn Christian Siriano. She's worn Thakoon. She's worn J. Crew. Michelle Obama loves American made as much as she loves Italian made as much as she loves anywhere made. She is, after all, an authentic fashionista, as comfortable in ready-to-wear as she is draped in couture.
So last night's dress — let's take one more look ...
... embodied the beauty and grace of the woman wearing it, the armor-like appearance a reminder of the first lady's strength and vitality.
Michelle Obama, your presence in the White House will be missed.