Slow cooker recall: Full list of recalled model numbers and what to know about fire hazard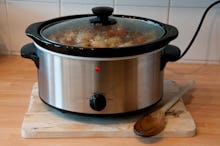 On Tuesday, the U.S. Consumer Product Safety Commission announced a recall of several models of 3-Squares brand rice and slow cookers because of improperly installed wiring that can cause the appliance to short out, potentially leading to fires or electric shocks. 
Which slow cookers were involved in the recall? 
The affected versions are the Tim3 Machin3 and Mini Tim3 Machin3 rice and slow cookers with fixed power cords.
Recalled model numbers
The model numbers involved in the recall are those starting with 3RC and ending in 3010S, 3020S, 3434, 5020 and 9010S. According to the recall notice, consumers should be able to find the model number printed on a label on the side of the appliance.
Where could you buy the recalled slow cookers?
The affected rice and slow cookers were sold at retailers and department stores across the country, including at Bed Bath & Beyond, Best Buy, Costco, Home Depot and Target stores and online through Amazon. About 175,000 cookers were sold in the U.S. and 100 were sold in Canada.
So far, according to the CPSC, three incidents involving the recalled slow cookers have been reported, including one where a cooker sparked when it was turned on. One injury has been reported.
Anyone with one of the recalled cookers "should immediately stop using it" and contact 3 Squares, which will ship a free replacement cooker at no cost, according to the CPSC.