2016 presidential polls: Where Hillary Clinton and Donald Trump stand before the debate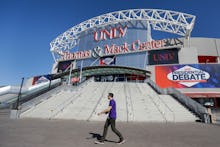 With Donald Trump trailing in key swing states just weeks before the election, Hillary Clinton now holds roughly her largest sustained lead of the presidential race. The final presidential debate on Wednesday night presents an opportunity for Clinton to solidify her lead — and one last chance for Trump to use the national stage to reverse his decaying poll numbers.
Nationally, Clinton now draws the support of more than 46% of voters, a 7-point lead over Trump, according to the RealClearPolitics average of polls. But Clinton's lead could actually be even larger: Several national polls released since Sunday have put Clinton up by as much as 9, 11 and 12 points. In the four-way race, Clinton has led in every poll tracked by RealClearPolitics since Oct. 6.
More dramatic numbers are coming in from swing states: Clinton leads in Colorado, Florida, New Hampshire, Nevada, North Carolina, Pennsylvania and Wisconsin. In Arizona and Ohio, the race is effectively tied. If Trump loses Florida, North Carolina or Ohio, or the combination of Arizona and Nevada, Clinton will win the White House. 
The impact the previous presidential debates had on the race is unclear. But from a polls perspective, the last month has been a disaster for Trump. Three weeks ago, for example, the race in Nevada was tied. Now, Clinton leads by more than 4 points there. At this point in the 2012 election, the race was tied. And at this time in 2008, a race Barack Obama ultimately won by more than 7 points, Obama led John McCain by 5 points.
The Takeaway: Clinton's margin in the polls is nearly unprecedented. Trump must deliver a strong debate performance in an attempt to turn the trend around. More than 63 million people watched the second presidential debate, an audience Trump and Clinton will not have again before November 8. But it is unclear if a strong debate performance would turn around Trump's poll numbers. 
In 2012, about 126 million Americans voted. If turnout this year is similar and Clinton's 7-point polling lead is accurate, that means Trump has just three weeks to convince millions of voters to show up and support his bid on election day.
The final presidential debate begins at 9 pm EST and will last 90 minutes. Click here to find a livestream.