Philippine police van mows down protesters outside US Embassy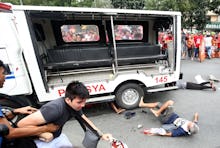 An anti-U.S. rally in the Philippines turned suddenly violent on Wednesday when a van driven by police began erratically ramming into the assembled protesters.
Renato Reyes, one of the event's organizers, told the Associated Press that at least three student protestors were rushed to the emergency room after the police-driven van connected with the crowd.
Footage from Associated Press TV shows the van flipping into reverse before suddenly shooting forward about 60 feet, sending protesters flying in the process.
"There was absolutely no justification for it," Reyes said of the sudden police violence, which caused about 1,000 protesters to scatter. "Even as the president vowed an independent foreign policy, Philippine police forces still act as running dogs of the U.S."
Protesters had gathered outside of  the U.S. Embassy in Manila to call for a foreign policy not dependent on the U.S. — a move championed by Philippines President Rodrigo Duterte.
In the Philippines, tensions with the U.S. are mounting. In September, Duterte publicly referred to U.S. President Barack Obama as a "son of a bitch" for criticizing the extrajudicial killings being conducted as part of a state-sponsored war on drugs, prompting Obama to cancel a scheduled meeting with the leader. 
As the relationship between the two countries continues to be strained, Duterte has turned to other Asian nations for economic assistance.
As the violent protest raged in front of the U.S. Embassy in Manila on Wednesday, Duterte was in China, appealing to Chinese leaders on state broadcaster CCTV to help support his island nation financially.
"The only hope of the Philippines economically — I'll be frank with you — is China," Duterte said.