'Overwatch' Sombra ARG countdown news: The latest clues to Blizzard's rumored character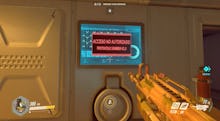 For the past several months, players of Blizzard's multiplayer online shooter Overwatch have been on the hunt for hidden clues in various corners of the internet. It's thought that these clues will eventually reveal a new character named Sombra. 
All of this came to a head Tuesday afternoon, when a loading screen on the site amomentincrime.com eventually ticked up to 100% — you can catch up on the whole situation here.
Unfortunately, those who were expecting a big reveal were left wanting. Instead of a new character, all they got were even more clues to mull over.
New Overwatch Sombra ARG clues
If you play as Bastion and walk up to a screen that displays the "Protocolo Sombra" error message, it will trigger a series of beeps, like so:
Those beeps are actually morse code that, once deciphered, leads to the URL Lumerico.mx.
On that site is a phone number, which plays this message when called:
It's also possible to log in to the Lumerico.mx site using the user name "GFlores" and the password "g#fNwP5qJ," which gives you access to a bunch of emails; you can read them here.
This situation is still developing, and assuredly there are more clues yet to be found. Check out the Game Detectives subreddit for all the details as they come. And, of course, Mic will keep you posted.