Nintendo NX release date: Latest rumors point to a full reveal very soon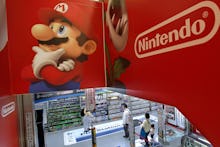 Nintendo's highly anticipated new console, currently codenamed "NX," is slated for release in March 2017 — but Nintendo has been tight-lipped on details thus far.
Various rumors about the console have leaked out. For example, Eurogamer reports the NX will somehow bridge the gap between a handheld and a home console through the use of detachable controllers, and a recent Reddit leak suggested the price will be $299. Nintendo has yet to confirm these reports, nor has it detailed exactly what its new console will be. 
Based on Nintendo's upcoming schedule, however, it seems the veil could be lifted as soon as next week.
Nintendo NX reveal likely to come next week — with a release date in March 2017
Nintendo has yet to reveal the NX despite a previously announced release window of March 2017, but a Nintendo spokesperson recently confirmed to the Wall Street Journal that it is still planning on revealing the console before the end of 2016, for a March 2017 release.
Nintendo's next (and smartest) opportunity to unveil the NX is next week. 
On Oct. 26, Nintendo president Tatsumi Kimishima is scheduled to discuss the company's second-quarter earnings. In the past, these types of meetings have yielded discussions about how Nintendo's upcoming projects will bolster future earnings, so it makes sense for him to say something about the forthcoming console there.
That's because it's no secret the Wii U hasn't sold nearly as well as Nintendo hoped — its only sold about 13 million units, in contrast to Sony, which has sold over 40 million PS4s — so Kimishima will likely be trying to emphasize how successful he expects the NX to be as a way to make up for the lackluster sales of the Wii U.
There's potential for a Nintendo Direct, too
In the past few years, Nintendo has revealed most of its projects — like games and hardware updates — through Nintendo Direct presentations, which are livestreamed video presentations.
For example, here's Nintendo's last Direct from Sept. 1:
If Nintendo is really gearing up for a full-fledged NX reveal, a Nintendo Direct will likely hit around the same time as the earnings call.
Regardless of whether Nintendo totally unveils the NX or keeps kicking that can farther down the road, Mic will keep you updated.