Casey Affleck was accused of sexual harassment. Why isn't he treated like Nate Parker was?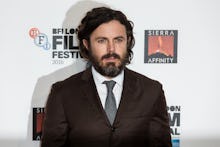 Tuesday afternoon, film trade publication Variety unveiled its latest cover story: a profile of actor Casey Affleck. Affleck (brother to Ben, co-star of the Ocean's movies) is a heavy favorite for an Oscar nomination for his work in the film Manchester by the Sea. 
Affleck's performance in the film is garnering a lot of buzz, and such profiles commonly serve as part of an actor or film's "for your consideration" awards campaign. Oscar voters, almost all of whom actively work in the industry, read such profiles in Variety and the Hollywood Reporter. So a cover like this, with a photo that gives off both movie-star appeal and true actor's grit, is a major way to keep Affleck's name and face in voters' minds.
Over 1,900 words into the nearly 3,000-word profile, however, writer Ramin Setoodeh brings up two words that feel jarring amid what is otherwise a glowing piece: "sexual harassment." Indeed, just a few years ago, Affleck settled two sexual harassment suits brought by his female coworkers on his mockumentary film I'm Still Here.
Yet unlike Nate Parker, star and director of The Birth of a Nation who came under fire after his 1999 trial for raping a female student at Penn State University, Affleck's controversial past remains mostly relegated to passing mentions. The question is: Why? Why, as Affleck's performance and film become part of the cultural conversation, are major media outlets all but ignoring the Affleck allegations? Why, even when a site like Mashable covers them, does the writer of the piece get (by his own admission) criticized for it? 
As the Guardian reported in 2010, Affleck was sued by two different women who worked with him on I'm Still Here: the film's cinematographer, Magdalena Gorka, and producer Amanda White. White accused Affleck of physically grabbing at her when she "rejected his sexual advances," according to the Guardian, and "instructed a camera operator to flash his genitals at her on several occasions." Gorka, on the other hand, received unwanted sexual attention and comments from people working on the movie, all allegedly encouraged by the director.
Initially, Affleck threatened to counter-sue the two women, but eventually settled both suits out of court. The details of these cases, if not the settlements, remain a part of public record.
In the Variety piece, Setoodeh made mention of the harassment suits, leaving out any particulars or details. Affleck's response: 
People say whatever they want. Sometimes it doesn't matter how you respond. ... I guess people think if you're well-known, it's perfectly fine to say anything you want. I don't know why that is. But it shouldn't be, because everybody has families and lives.
The suits aren't mentioned again in the profile. The very first comment of the article: "Not a Nate Parker fan, but seems a little unfair not to talk about Casey Affleck's background in a similar area. Are the people who say the coverage of [Parker] is somewhat racially motivated right?"
Since Parker's 1999 trial rose back to the surface in August, some have called the timing into question. Rev. Al Sharpton said it was an attempt to damage the Nat Turner biopic The Birth of a Nation before its release.
"Nobody is justifying wrong, but if you go to court, charge somebody with the crime and the courts in Pennsylvania in 1999 find you not guilty, you can't have it both ways," Sharpton told the Root. "Is the standard now that you can take an almost two-decade acquittal and beat him down and deny him the Oscars, but it's all right for others who've done crazy stuff to be Oscar material? I just want to know, what is the standard?"
The accusations against Parker were public before — sitting on his Wikipedia page, even — but few journalists were writing about it. Part of what amplified the Parker accusations was a new update: His accuser died by suicide in 2012. Interestingly enough, that report came from Setoodeh and Variety. (Mic reached out to Setoodeh, but he was unavailable for comment.)
There are myriad reasons to ascribe to the difference in how Affleck and Parker are being treated. Race is one potential factor. The lack of new news is another. Parker's accuser's suicide also adds an extra layer to his case. Another difference: Parker was acquitted in 1999, but Affleck settled both lawsuits in 2010. (One may have their own opinions of Parker's acquittal, but from the court's perspective, he is not guilty.)
There is also a substantial legal difference between assault and harassment. It's worth noting, however, that the groping White described in her suit sounds much like what Donald Trump has been accused multiple times of doing — and that has indeed been described as assault. "Harassment" is the legal term used in the suit filings.
The fact is, we will never know the truth of Parker or Affleck's cases. All we have is testimony, legal filings and the denials from both men. No court of public opinion will ever fully exonerate or convict them of their crimes.
The allegations against Affleck are being treated as footnotes in a man's march to an Oscar nomination, while Parker's became a defining, front-page entertainment story. But the difference in treatment almost certainly isn't a coincidence — and it's absolutely worth talking about.