Latest Utah polls: Could Donald Trump lose the Beehive State to Evan McMullin?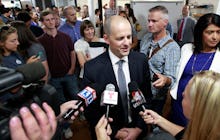 "Donald Trump stands for everything I don't." That's a recent quote from a likely voter in Utah — but not just any ordinary voter: It's the Republican Lt. Gov. Spencer Cox.
In a state that has voted for a Republican in every presidential election since 1964, those strong and unexpected words come just weeks before the hotly anticipated election. And now GOP nominee Donald Trump is hanging on by a thread in Utah, where six electoral votes are up for grabs.
In a five-way matchup against Democratic nominee Hillary Clinton and the three leading third-party candidates, Trump is ahead by just 1 percentage point, according to a Heat Street/Rasmussen poll conducted Friday to Sunday.
And it's one third-party candidate in particular who is blurring the state's red history: Independent Party candidate Evan McMullin.
Who is Evan McMullin?
McMullin is a former CIA operative, Goldman Sachs investment banker and House GOP aide. He's also a Mormon from Utah. McMullin entered the presidential race in August, after Trump became the Republican nominee.
McMullin, who is 40, has captured the attention of Utah voters, who chose GOP candidate Mitt Romney in 2012 by a wide margin.
"For too long, elections in our country have been about voting for 'the lesser of two evils,'" McMullin's campaign website says. "It's time for a new generation of principled leaders, who care more about our country and humanity than they do about their egos, political power and money; leaders who speak truth and guide us to a positive vision for the future."  
That message is resonating, and now Utah is suddenly the surprise state to watch in the 2016 presidential election. McMullin is on the ballot in 34 states, but is also reminding voters in those other states they can vote for him as a write-in candidate.
Who is his running mate?
Mindy Finn was born and raised outside of Houston, according to her campaign bio. The 35-year-old attended college in Boston and Washington, D.C., before launching Empowered Women, which gives a "voice to a new generation of American women." Like her running mate, she also worked as an aide on Capitol Hill.
Utah is Trump's to lose.
Despite the surge of the McMullin-Finn campaign, voters in Utah are still likely to pick Trump. A RealClearPolitics average of seven statewide polls puts Trump ahead by 6.3 percentage points in Utah. And FiveThirtyEight gives him a 90.7% chance of winning the state.
Mic has ongoing presidential coverage. Please follow our main election hub as well as coverage of Donald Trump and Hillary Clinton.