Website run by Trump campaign CEO claims to find new Bill Clinton accuser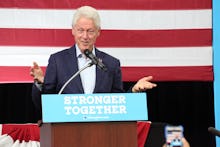 Breitbart News, the conservative website that peddles in conspiracy theories and is run by Donald Trump's campaign CEO Steve Bannon, published a report Wednesday morning of a woman who claims Bill Clinton sexually assaulted her in the 1980s.
Leslie Millwee, who claims to have used the name Leslie Derrick when she reported for a now-shuttered news station in Arkansas, says Clinton assaulted her three times.
Breitbart acknowledges that it could not "fully verify" Milwee's claims, given that no video archive exists from the station. And it points out inconsistencies in Milwee's story, which she first published in a book she wrote in 2011.
The report comes after Trump has taken a massive hit in the polls, after a slew of women came forward to accuse him of sexual assault. It also comes the day of the final presidential debate, and sets up what's expected to be yet another ugly night of sparring between Trump and Hillary Clinton.
Bannon has also said that he was going to find more Bill Clinton accusers, after an incident before the second debate in which he trotted out women who had already come forward years earlier to accuse Bill Clinton of assault.
"We're going to turn him into Bill Cosby," Bannon told Bloomberg News, in speaking about Bill Clinton.
Bannon's comments were made before a torrent of women came forward to accuse the Republican presidential nominee, after he denied on stage that he had ever groped or kissed women in the way he described in a leaked 2005 tape.