The most popular Halloween costumes of 2016 revealed: Harley Quinn reigns supreme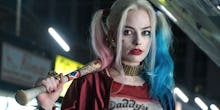 The sound of disgruntled "pumpkin spice is bullshit" truthers mixed with the scene of pumpkin spice candles can mean only one thing: Halloween is near, and maybe, just maybe, the Sanderson sisters will rise again. 
So what's everybody going to be wearing? Thanks to Google's Frightgeist, you can now find out the country's most popular costumes based off of search analytics. Want to dig even deeper? You can even search by location to see the hottest costume trends in your city.
So what guises will you be seeing this H'ween? Harley Quinn (or as some retailers are referring to it, Aging My Chemical Romance Fan) sits at No. 1 — which isn't much of a surprise considering the box office success of Suicide Squad and the popularity of both the comic book character and the actress who portrayed her, Margot Robbie.
Rounding out the top 10:
2. Joker
America, where's the creativity, y'all? Looks like Sexy Ken Bone and Sexy Harambe didn't make the impact some had hoped.
The top 50 isn't much more inspiring, with one key takeaway: Minnie Mouse (#14) is way more popular than Mickey (#28).
11. Mermaid
21. Ghostbusters
31. Little Red Riding Hood
41. Stormtrooper
Want to see what costume is trending in your city? Check out Google's Frightgeist map here.