Yes, even Howard Stern is disavowing Donald Trump's "locker room talk"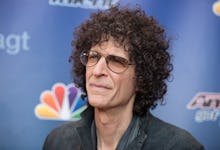 In February, BuzzFeed News uncovered dozens of unsavory sound bites from Republican presidential nominee Donald Trump's many interviews on The Howard Stern Show. From the '90s through the early 2000s, Trump bragged about his sex life, ranked women based on attractiveness and objectified women in countless other ways to the apparent delight of shock jock Howard Stern. 
Then, earlier this month, CNN dug up 2005 audio of Trump giving Stern permission to call his daughter Ivanka Trump a "piece of ass" and talking about walking in on beauty pageant contestants in their dressing rooms. And soon after, a video surfaced from a 2006 interview in which the candidate shrugs and says "It's true" when Stern co-host Robin Quivers calls him a "sexual predator." 
On Monday, though, Stern drew a line in the sand: Trump's "grab them by the pussy" comments caught on a hot mic by Access Hollywood and revealed by the Washington Post, were not, as Trump has insisted, "locker room talk."
"All the times I've been around guys — and believe me when I'm around guys, 85% of the times you're talking about pussy — but I have never been in the room when someone has said 'grab them by the pussy,'" said Stern on his show, according to a transcript from Billboard. 
"No one's ever advocated going that step where you get a little bit, 'Hey, I'm going to invade someone's space,'" he added. "... A lot of [locker room banter is] real kind of desperate talk. The reason it's in a locker room is because no one's proud of it."
But even though Stern might be ready to disavow Trump's comments describing sexual assault, Stern isn't ready to hold Trump accountable for any of his other crude remarks. To do so, he said, would be a "betrayal."
Billboard transcribed the following explanation from Stern on why he won't play back the tapes from his past shows featuring Trump:
"I feel Donald Trump did the show in an effort to be entertaining and have fun with us and I feel like it would be a betrayal to any of our guests if I sat there and played them now where people are attacking him," Stern said on Monday's show.
Stern said he has nothing to hide: His interviews with Trump were always meant to be broadcast for all to hear. What's more, Stern knew exactly what to expect every time he invited Trump to be on his show.
"I fully knew what I was doing when I interviewed Trump," Stern said. "I knew I had a guy who loved to talk about sex ... I had a guy who loved to evaluate women on a scale of one to ten. These are avenues I went down because I knew it would entertain the audience."