Aziz Ansari hilariously sends up those trite celebrity voting videos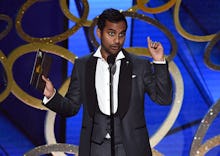 We've all seen them: the celebrity "get out and vote" PSAs. A bunch of stars get together and deliver heartfelt, earnest pleas to get you to vote. They look like this, or this, or they're tongue-in-cheek and look like this.
Aziz Ansari is pretty over this nonsense. In a new video for NextGen Climate, the climate action political group founded by hedge fund billionaire and environmentalist Tom Steyer, Ansari drops all pretense about celebrities urging you to vote. 
He calls out those other videos and questions why he's even here.
Before ripping into Donald Trump on immigration and climate change.
Watch the full video below: