Derrick Rose cleared of all charges in rape civil trial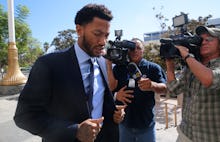 Derrick Rose's rape trial has come to a close, with jurors clearing the NBA star and two of his friends of trespassing, sexual battery and battery charges on Wednesday afternoon. 
The Los Angeles Times reported the jury — composed of six men and two women — took three hours to deliver their verdict.
In August 2015, a woman identifying herself as Jane Doe filed a civil suit against the NBA player and two of his friends — Randall Hampton and Ryan Allen — alleging that, in August 2013, the three men had entered into her apartment while she was unconscious on her bed and proceeded to rape her. She asked for $21.5 million in damages.
Even before the case went to trial, the defense team made clear its intention to portray her as a sexually aggressive and advanced woman whose romantic history would dispel any doubts that her encounter with Rose, Hampton and Allen was not consensual. 
Doe, meanwhile, maintained the encounter was absolutely not consensual, and that her anonymity — in the media and in the courtroom — was of the utmost importance to her. In a September interview with ThinkProgress, she stressed that keeping her identity concealed was necessary to preserve her dignity and that of her family. 
Shortly before the trial was scheduled to begin, U.S. District Judge Michael W. Fitzgerald ruled that she could not use a pseudonym in court, but impressed upon the defense team that using language that "shames and blames the victims of rape" would not be permissible in front of the jury. 
Still, that seems to be what jurors heard. Rose's attorney, Mark Baute, painted Doe as a gold-digger. The accused men testified that she had sex with Hampton while simultaneously giving Rose a blow job, hours before the alleged rape; that she told them to come over to her apartment and invited them to have sex with her "one at a time" after she let them in. 
The prosecution, meanwhile, maintained that Doe had been too intoxicated to consent to sex. Doe's story remained the same, while the men's testimony changed between retellings. According to the L.A. Times, Doe's attorney, Waukeen McCoy, called the men "sexual deviants." Baute, meanwhile, portrayed the woman as a threat to Rose's contract with the New York Knicks and to his endorsement deals. 
After the verdict was delivered and the judge's final remarks recorded ("Best wishes. Except when the Knicks play the Lakers."), Rose and his attorney posed with jurors — L.A. Times reporter Joel Rubin tweeted a picture.