Hillary Clinton polls today: The Democratic presidential nominee's lead has grown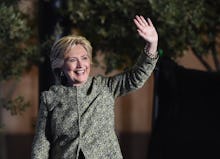 Hillary Clinton continues to hold a large lead over Donald Trump in national and state polls. Since the beginning of October, the Democratic presidential nominee's lead over Trump has grown in most swing states. Elsewhere, Clinton is competitive with Trump in states no Democrat has won for decades. 
For much of September and August, Clinton's support among voters hovered around 41% and 42%. But in the last three weeks, her support has surged to more than 46%. Combined with a small decline in Trump's support, her national lead has hovered around 7 points since Monday.
Clinton's lead is even more pronounced in several key swing states. Her campaign has capitalized on new poll numbers that say she is tied with or leading Trump in Arizona, a state that has gone Democratic once since 1952. In Florida and North Carolina, must-win states for Trump, Clinton has the considerable edge. And in the perennial battleground of Ohio, where Trump enjoyed a nearly 4-point lead in early October, the race is effectively tied.
These numbers create a huge opportunity for Clinton. While her favorability rating has improved in recent weeks, a majority of voters still view her negatively. And continued leaks of campaign emails offer Republicans ammunition against her credibility and raise questions about whether Clinton can be trusted. A win for Clinton in states like Arizona, or even Georgia, would offer her a mandate from voters to boost her agenda in Washington. 
Wins for Clinton in deeply red states could further split the Republican party between Trump supporters and the GOP establishment. Major Trump losses would give leaders like Republican House Speaker Paul Ryan further evidence the party must move in a new direction to have a chance at winning the presidential election in 2020. 
The Takeaway: As Clinton and Trump face off in the final presidential debate, voter support remains strong for Clinton and her chances of victory remain high. Given tonight's debate is the last opportunity to connect with millions of voters at once, a win for Clinton in tonight's debate will likely secure her lead. 
For Perspective: In the two-way presidential race (third-party support was substantially weaker in 2012 and therefore polled less), Clinton has better numbers than Barack Obama did at this point four years ago.