Hillary Clinton vs. Donald Trump debate live: Here's where to watch the debate online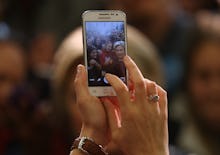 The first two presidential debates have been anything but ordinary. And the number of viewers interacting on social media during the debates is nothing short of extraordinary.
According to Nielsen ratings, there were more than 17 million Twitter interactions from 2.7 million people in the United States during the first debate between Republican candidate Donald Trump and Democratic candidate Hillary Clinton on Sept. 26.
During the second debate on Oct. 9, more than 18 million people in the U.S. had 62 million social media interactions across Facebook and Twitter, Nielsen reported.
The third and final debate on Wednesday night in Las Vegas is sure to draw even more interaction on social media ahead of the Nov. 8 election.
Here's how to watch and interact online during the debate.
Facebook is the exclusive social media sponsor of the debate, according to the Commission on Presidential Debates. Viewers from around the world can watch the debate live on Facebook, ask questions and comment in real time.
PBS NewsHour has created a website called WatchtheDebates.org, where viewers can interact live using Microsoft Pulse.
A new app called Airtime, created by Napster co-founder Sean Parker, allows viewers to watch the debate via YouTube while they connect and interact live in a group chat.
Snapchat will cover the debate with "live stories" as it has during the first two debates.
The third and final debate will also be livestreamed on ABC News, Buzzfeed News, CBS News, CNN, C-SPAN, the Daily Caller, Fox News, Huffington Post, NBC, PBS, Politico, Telemundo, the Wall Street Journal, Univision and Yahoo.
And you can watch the debate on Hulu and YouTube.
The commission recommends using the hashtags #debates or #debates2016.
Mic has ongoing presidential coverage. Please follow our main election hub as well as coverage of Donald Trump and Hillary Clinton.