Apple e-ink keyboard rumors: Will the 2018 MacBook get a new OLED keyboard?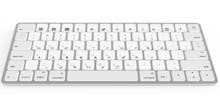 Rumors about Apple's next generation of MacBooks are starting to gain some steam. According to the Wall Street Journal, Apple plans to equip the 2018 MacBook with a "magic" Bluetooth e-ink keyboard with customizable hotkeys, varying alphabets (including emojis) and a backlit display. 
The technology reportedly comes from Australian startup Sonder, which is releasing its own e-ink keyboard later this year.
The veracity of these rumors is questionable, however. As the Verge points out, the Journal's report cities anonymous sources "familiar with the plans," and references another article from the Guardian that claims Apple CEO Tim Cook met with Sonder founder Francisco Serra-Martins to discuss acquiring the company. According to Sonder, though, this never happened. 
The Guardian also cited a Reddit thread which has since been deleted. In it, the individual who posted it claimed to have possession of a prototype Apple e-ink keyboard. 
According to the Guardian, the user wrote: "It's really a solid indication of the future of input technology. Apple has a reputation of making big leaps which are seen to be unpopular but then become the new standard. Dynamic keyboards are the standard for phones, they will be for laptops and desktops too."
Does it mean anything that the thread was deleted? The rumor could simply be unfounded — or perhaps the redditor was afraid of pushback from Apple, as was the case when a Gizmodo blogger acquired an iPhone 4 prototype and police conducted a raid on his house. 
Previously, Apple was rumored to be developing its own keyboard with an OLED touch display. While the two keyboards share similar traits, Sonder's device is an entirely separate product. 
Mic has reached out to Apple regarding the new keyboard and will update if it responds.